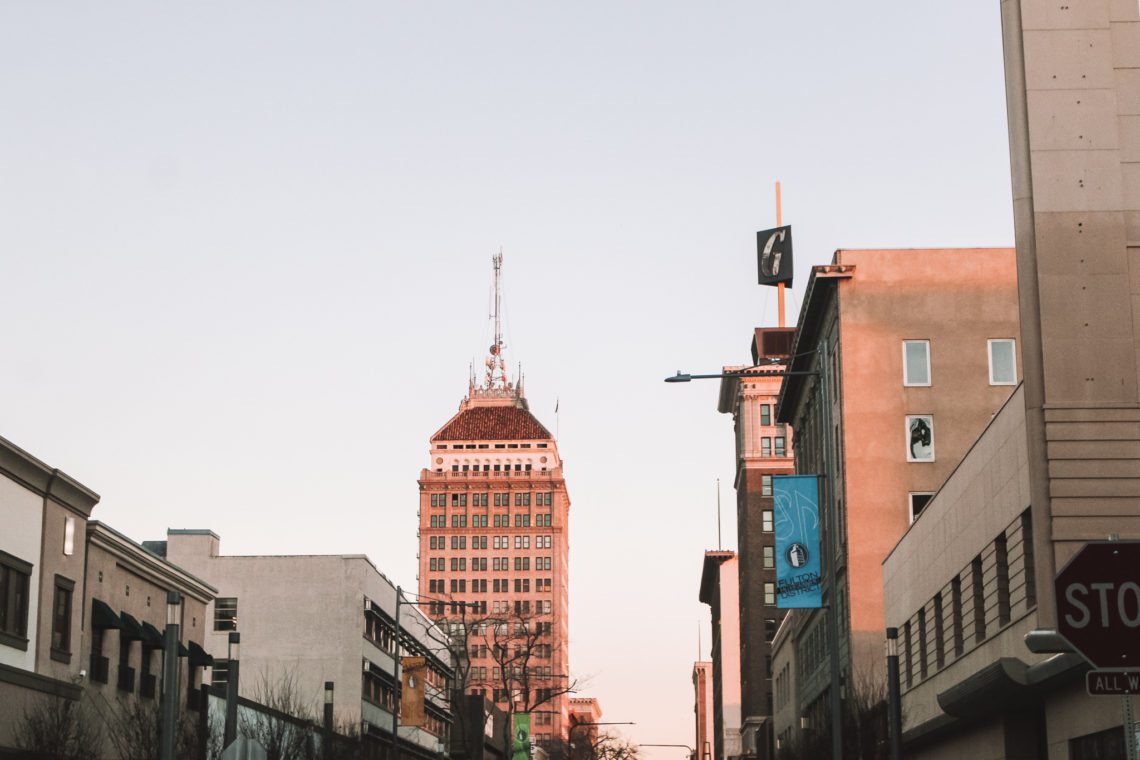 The 23 Best Places to Eat in Fresno [A Local's Guide]
Cassie's Compass contains affiliate links and is an Amazon Services LLC Associates Program member. If you make a purchase using one of these links, I may receive compensation at no extra cost to you. See my Privacy Policy for more information.
Fresno is the agricultural capital of California. So it's no surprise that it has some of the best places to eat in the Central Valley. From farm-to-table restaurants to hole-in-the-wall cafes, Fresno has something for everyone.
As a proud Fresnan, here are my picks for the best places to eat in Fresno.
1. Dog House Grill
When listing the best restaurants in Fresno, Dog House Grill has to top the list. The tri-tip is the star of the menu, and it's the place to be on Fresno State game day.
2789 E Shaw Ave, Fresno, CA 93710
$$
2. Heirloom
Heirloom is my go to dinner spot. Farm-to-table, easy and casual. The wedge salad is my favorite in Fresno.
8398 N Fresno Suite 101 Fresno, CA 93720
$$
3. Chef Paul's
Chef Paul's is pretty much the only place in Fresno to find good southern comfort food. Their restaurant is small but the murals and location in the heart of Chinatown are worth it.
952 F Street Fresno, CA 93706
$$
4. Castillo's Mexican Food
Fresno has tons of great Mexican food, but Castillo's is the place to go for authenticity. Castillo's is third-generation owned in the Jackson Neighborhood.
3659 East Ventura Avenue ​Fresno, CA 93702
$
5. The Annex Kitchen
Annex is an Italian restaurant with a California flare, and is one of the most popular date spots in Fresno. Make a reservation ahead of time.
2257 W Shaw Ave Fresno, CA 93711
$$$
6. Batter Up Pancakes
Batter Up is the best breakfast place in Fresno. Their specialty pancakes and hearty breakfast and lunch menu are sure to delight. For even quicker breakfasts, check out my favorite Fresno coffee shops.
8029 N Cedar Ave Fresno, CA 93720
$$
7. The Lime Lite
The Lime Lite is another great date spot that you definitely need reservations for. American cuisine, fun cocktails, and a cool patio.
1054 W Shaw Ave Fresno, CA 93711
$$$
8. Annesso Pizzeria
Annesso has handcrafted artisan pizzas and fun drinks in a casual atmosphere. Perfect for a lunch date or girl's night.
8484 N Friant Rd Fresno, CA 93720
$$
9. House of Juju
Okay, House of Juju is technically in Clovis, but this locally-owned craft burger spot is one of my favorites.
565 Pollasky Ave Suite 101 Clovis, CA 93612
$$
10. Cracked Pepper Bistro
Cracked Pepper is another popular date spot requiring reservations. The Armenian chef brings his own flare to local Fresno food.
6737 N Palm Ave, Fresno, CA 93704
$$$
11. Sequoia Brewing Company
Sequoia Brewing has two locations in Fresno. With great food and a full bar, the interior is meant to transport you to the nearby Sequoia forests.
777 E Olive Ave, Fresno, CA 93728
1188 E Champlain Dr Suite 107, Fresno, CA 93720
$$
12. Rocket Dog Brats & Brew
Rocket Dog is another cool place to eat in Fresno, locally owned and offering gourmet bratwurst and bar food.
88 E Shaw Ave, Fresno, CA 93710
$
13. Teriyaki Don
Teriyaki Don is a counter-service Japanese restaurant. Try the firecracker chicken!
6731 N Cedar Ave, Fresno, CA 93710
$
14. 808 Ohana Shack
808 is the best and most authentic Hawaiian food in Fresno (according to my Hawaiian husband.)
5730 N First St, Fresno, CA 93710
$
15. 13 Prime Steak
For an anniversary or special occasion, 13 Prime is the place to be. A locally owned prime steakhouse on the Fresno/ Clovis border with craft cocktails.
1345 N Willow Ave #190, Clovis, CA 93619
$$$$
16. House of Kebab
House of Kebab is the best Mediterranean food in Fresno. The garlic sauce. Enough said.
7458 N Fresno St, Fresno, CA 93720
$$
17. Mayd
Another good Mediterranean place by the same owners of Heirloom. Mayd is modern and fast, think Chipotle for Mediterranean.
7090 N Palm Ave Ste 109, Fresno, CA 93650
$
18. Taqueria El Jalisciense
Jalisciense are one of the best taco places in Fresno, plus they have a food truck.
3115 E Central Ave, Fresno, CA 93725
$
19. Pad Thai Clovis
Another restaurant that is technically in Clovis, but Pad Thai is the best Thai food in Fresno. The basil fried rice and Thai tea are the perfect combo.
198 Shaw Ave, Clovis, CA 93612
$$
20. Loving Seed
There are many good acai and juiceries in Fresno but Loving Seed is locally owned and has great toppings and toasts.
6749 N West Ave, Fresno, CA 93711
$$
21. Libelula
Libelula is farm-to-table Fresno fare in the heart of downtown. Four words- cinnamon roll bread pudding.
1154 Broadway St, Fresno, CA 93721
$$$
22. The Patio Cafe
The perfect brunch spot with a great patio (obviously) The Patio Cafe offers farm-to-table all-day breakfast in Fig Garden.
5138 N Palm Ave, Fresno, CA 93704
$$
23. The Meat Up
The Meat Up is a butcher shop offering hot breakfast and lunch specials according to each day of the week. Thursdays are the time to visit with Philly Cheesesteak sandwiches on the menu.
7010 N Marks Ave Suite 102 Fresno, CA 93711
$$
READ NEXT: